Generators
Generac Generators
Generac launched the first home backup generator affordable enough for widespread residential use in 1959. Nearly 50 years later, they're still the undisputed leader of their industry – and seven out of ten backup generators in the field are Generac. The company is proud to offer customers the most affordable, most reliable, most respected and most dominant range of backup power generators on the market.
At-a-glance external indicator light for quick notification of unit status
No louder than a normal conversation from about 20 ft away
Can withstand hurricane-force winds of up to 150 mph
Locking enclosure opens in seconds for easy maintenance access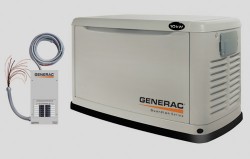 Other major brands – certainly, big players in other fields – offer generators as well. It's understandable that you'd want to consider them when researching backup generators. But no one has been doing this longer, or doing it as well as Generac has. Generac has been the dominant name in backup generators from day one.
There are no shortcuts to success, and it all starts with the engine. Most competitor engines are made for cutting grass and are sourced from overseas. Generac designs the engines in their home standby generators specifically for the demands of power generation, and builds them right here in America (Wisconsin, to be exact).
Generac's loyal owners enjoy a sense of control in knowing that they decide when the lights go out in their home – and BRE is proud to be an authorized dealer of this company's products.